Here's a secret to sleeping well, saving money, and avoiding back pain.
Do you change your sheets every week or so? That's easy to remember to do. The sheets start feeling pasty and a little stiff, not soft like when they come out of the dryer. It's natural to remember to change your sheets.
When you do, take an additional step.
When to flip a mattress that needs flipping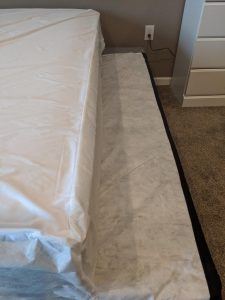 Every time you change your bedsheets, flip, and/or rotate your mattress. It's a good habit to get into. It'll add years to the life of your mattress, saving you money, and improving your health in the long run.
Not every mattress has been designed to be flipped. Foam mattresses are designed to be rotated to wear evenly. Box spring mattress should be flipped and rotated. Waterbed mattresses don't need to be flipped at all. If you can find them, follow the manufacturer's care instructions.
With clean sheets and a flipped and/or rotated mattress, your bed will be as comfortable as it can possibly be.
Someone who doesn't flip and/or rotate their mattress breaks their bed down in one section or another. It can't be helped. Everyone has their favorite part of the bed where it seems like they can't help sleeping.
At first, they end up with back or neck pain. That's because gravity pulls their body unnaturally. It makes them sore.
Flipping and rotating the mattress can smooth your body out when you're laying on your bed for about one-third of the day, though it might take a few days for the pain to go away.
How often people flip their mattresses isn't studied by science.
Mattress companies might tell you to do it after you buy one. They don't want you to return it in a couple of months telling them that the new mattress they sold you didn't last.
It doesn't matter that there are few if any studies on mattress rotation. You can readily see the effects.
An unflipped mattress develops a crater in it. Sleeping on that makes your back hurt sooner or later no matter how old you are.
Tips for flipping
The most important thing is to clear the area where you're going to be flipping the mattress of anything that can be knocked over.
It can be helpful to have two people flip the mattress, but it's not completely necessary if you take the time to clear the area.
Remember, too, that even if you keep your mattress on the floor you'll want to flip and rotate your mattress regularly.
Further reading:
There's only one good, universal reason to make your bed every day
James Cobb, RN, MSN, is an emergency department nurse and the founder of the Dream Recovery System. His goal is to provide his readers with simple, actionable ways to improve their health and maximize their quality of life. 
We use some affiliate links. If you click on a link and make a purchase, we may receive a commission. This has no effect on our opinions.