Over the last two thousand years, Christians have developed a lot of different prayer methods and aids. The newest of the aids is the Christian bedtime pray app.
Each app is geared toward a slightly different audience of Christians. Each takes a different approach.
One feature common to all of them are offerings of that include contemplative prayer prompts, scenarios and stories. Several others offer Bible readings in a calm, sleep-inducing voice. Whether this is a good thing should be debated. One is probably best served by paying attention to and pondering the Word rather than use it to try to go to sleep. On the other hand, some schedules are so frantic that some users feel that's the best time the have to work it into their schedule.
Beyond that, the other features the apps offer diverge greatly.
All of them come with a free trial. If this kind of sleep aid appeals to you, the goal of this article is to help you narrow down the choices.
It's important to note that the Christian bedtime prayer app variety isn't limited to just these apps. For example, there are general-purpose rosary apps and websites one can use at bedtime. There are prayer videos and sermons on YouTube and other streaming sites. There are podcasts on apps dedicated to that.
A bedtime prayer app offers a centralized place for resources. These resources are designed for a particular demographic.
These apps are quickly evolving, and, likely, a given app will further refine its features as time goes on. We'll make an effort to update this article regularly. For the most up-to-date information, consult the apps themself.
We're not going to "rate" these apps. We've tested these apps and their base functionality on our devices (both Apple and Android) work equally well. Which one, or none, is best for you depends on what you're looking for.
Abide
Annual Cost: $39.99
As compared to the other Christian bedtime sleep apps, Abide primarily focuses on stories. The first screen offers a featured bedtime story, a daily biblical meditation, stories for sleep, and meditations for anxiety and dealing with emotions. There is also a feature that provides ambient noise.
Abide offers content specifically geared toward children and a lot of it. Pray also has some. This feature apparently turns off some would-be app users in the comment section of the app, but this feature might make it a slam-dunk choice of parents of young children looking to help cultivate a positive habit. Hallow and Soultime don't address this portion of the market. Pray.com contains some podcasts that are intended for mature audiences.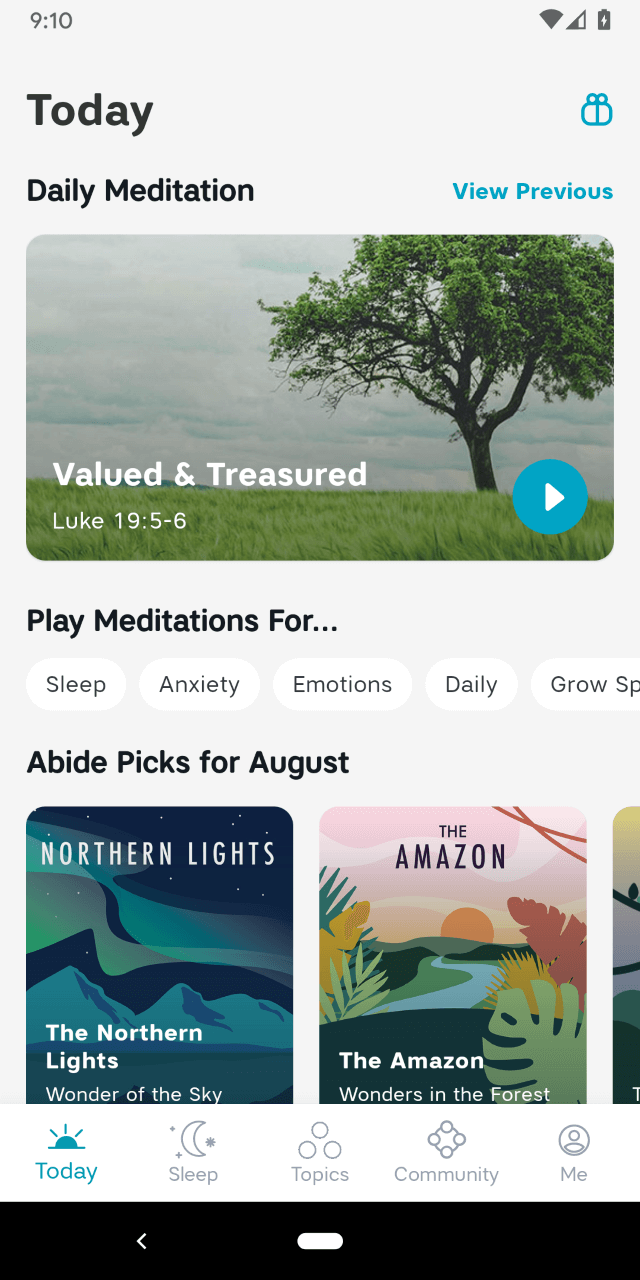 Other parts of Abide contain advice for facing fear, overcoming the anxious mind, dealing with pressure, maintaining calm
how to love beyond giving mere lip service to the concept, grief, and other topics. There are many of these types of topics. They're organized into different categories such as spiritual growth, purpose, breathing, parenting, for women, addiction, thankfulness, and blessings.
The community portion of the app is very active. Users request prayers for themselves and their family members. Other users request help in paying for the use of the app through a scholarship.
Many of the children's stories are organized under Zoey's Great Zoo Adventure.
Another noteworthy fact is that of all the pay-for apps, it has the lowest annual price of all four apps, though Pray allows users to pay by the month. That might make that option more affordable for some.
Between the extensive content for children, the counseling, the wide variety of stories, Abide seeks to serve a wide variety of Christians.
Amen
Annual Cost: Free, donation accepted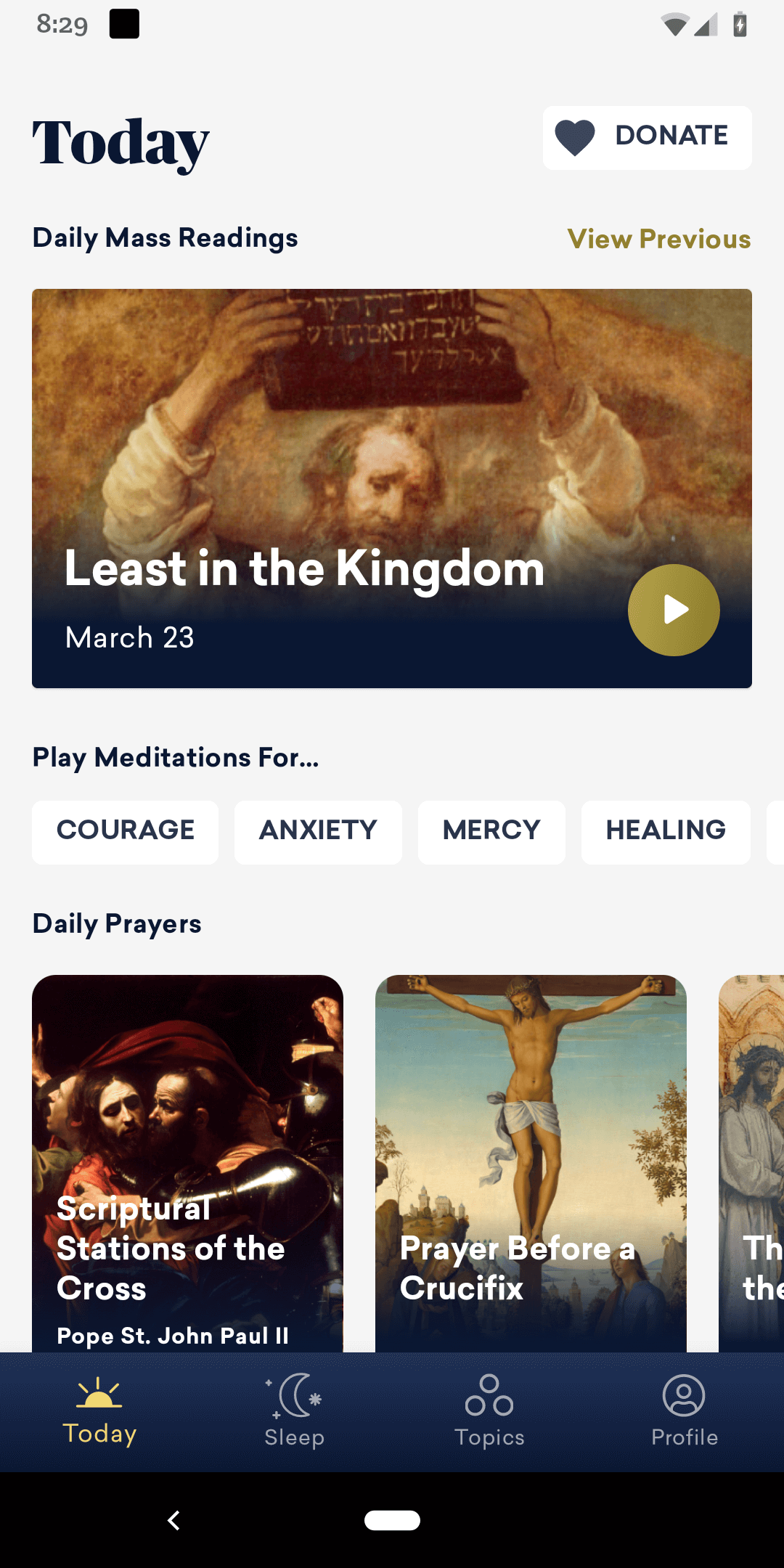 Amen, an offering from the Augustine Institute, combines classical Catholic religious art graphics, a prayer book, and a variety of other offerings with an intuitive interface.
At the top of the screen, you have a meditation from that day's mass reading. Alternately, you can select a meditation for a special concern like anxiety or courage. Another section features daily prayers, sleep stories, and other Bible-passage-based meditations for concerns like mercy and courage.
Toward the bottom of the display screen is a space for keeping a journal.
Hallow
Annual Cost: $59.99
Hallow is targeted toward Roman Catholic Christians. As such, many of the terms and features on the app may be unfamiliar to Christians from other denominations if they have had limited exposure to Catholicism.
Considering how poorly many Catholics have been catechized in their faith over the last 50-or-so years, there are probably several new concepts for many of them in Hallow. Therefore, in addition to serving as a sleep app, Hallow also teaches about the many aspects of the faith. With features like "Saint of the Day," novenas, and "Lectio Divina."
Since Hallow is addressed to a singular faith group, there is more of an attempt to build a community on this app as compared to others. The app's staff puts forth various challenges and encourages community members to participate in activities like novenas, a formalized prayer extending over a number of days, often nine.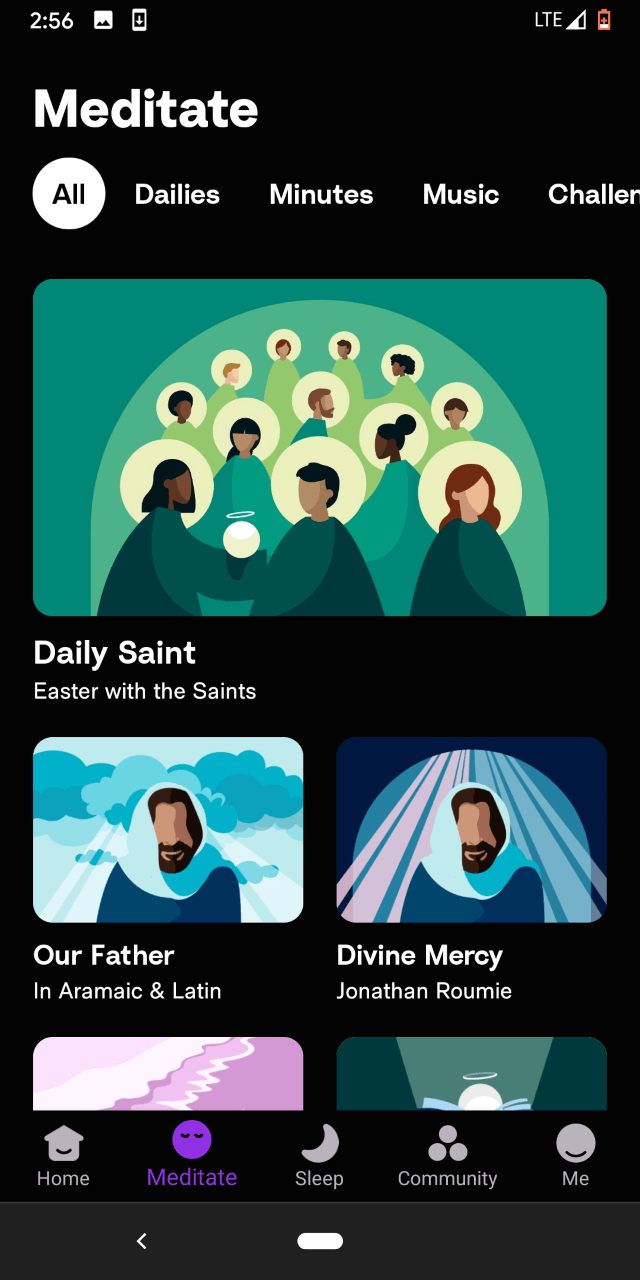 All of the apps are graphically pleasing to look at. Hallow designs follow a similar "look" to Google's products. Nevertheless, there is no connection between Google and the company producing Hallow.
Another part offers sleep music and commentaries by leading Catholics like Jonathan Roumie, Fr. Mike Schmitz, Bishop Barron, Katie Prejean McGrady, Gia Chacon, and many more.
In addition to helping one catch a few zzz's, Hallow offers a way to learn about the Catholic faith, especially for those Catholics who don't have access to the Traditional Latin Mass and have to attend parishes without much in the way of adult education. Hallow, for them, could be an actual lifeline.
Pray
$4.99 a month
Each of these apps encourages use by push notifications. Hallow employs gamification by noting how many days in a row you've prayed with the app. This app also allows you to share on Facebook to invite others to pray with you, a form of evangelization.
The app also has many Bible podcasts. One has you reading the whole Bible in a year. Another features the rich basso profundo voice of James Earl Jones reading to you; another has Charlton Heston. They draw from a deep pool of media and entertainment talent.
Some of the Bible readings, on the other hand, focus on a particular story in the Bible like Cain and Abel, Noah's Ark, and Sodom and Gomorrah.
Some feature well-known actors playing parts from the Bible. For example, Blair Underwood plays Mark, and Neal McDonough voices Jesus.
Personally, I really like faith stories that don't pull any punches. They provide a powerful witness. Pray features interviews about faith that are gut-wrenching in the Stories of Survival and Armor of God series. It also has recordings from various speakers like Roma Downey (actress, producer); Edit Hand (author); Rebecca Bender (CEO, human-trafficking expert); Dan Hitzhusen (church congregation founder), and others.
Another section presents book summaries from titles like:
The Purpose Driven Life by Rick Warren
Before Amen by Max Lucado
I Declare by Joel Osteen
Angels: God's Secret Agents by Billy Graham
Total Money Makeover by Dave Ramsey
The book summaries are under five minutes in many cases. Some of them are undoubtedly thin on content. Five minutes doesn't leave you enough time to introduce the title in the most superficial way. If you're truly interested in the book's message, you couldn't possibly be satisfied with something so minimal.
Much of the content on Pray isn't necessarily for bedtime, especially Stories of Survival and Armor of God. That seems like it would make for listening in the car while exercising or doing chores around the house. That's good, of course, because that increases the utility of the app.
Soultime
Annual Cost: $59.99
This app has a few other features that the other Christian bedtime prayer apps don't. For one, they incorporate some psychological initiatives like a mood tracker and a personality test. It's a powerful approach.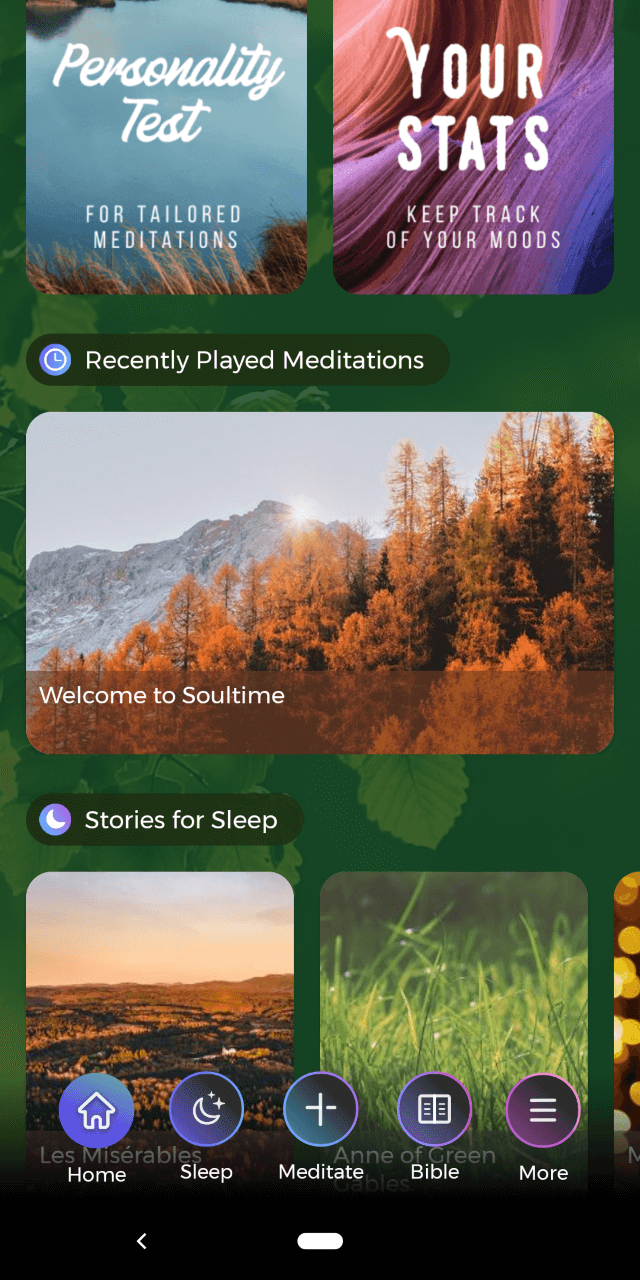 The personality test is proprietary built on identifying connecting and disconnecting feelings with self, God, and other people. This could be a useful tool for someone if they dedicated themselves to using its insights faithfully. Awareness of a problem, after all, is half the distance toward a solution.
For example, one could feel that they were alone in the world, abandoned and isolated. If they never made an effort to connect or understand others, they wouldn't have solid relationships. And because they didn't have the relationships, they remain abandoned and isolated. While they might appear to be self-evident on the surface, insights like these can help one break out of a rut.
Soultime can also help you find Bible readings that connect with your mood. When you determine your mood, you can get recommendations for your Bible reading.
The app also has a mood tracker that helps you track your mood over a number of days.
There are music offerings, reading collections that will enable you to get through the entire Bible in three years, stories for sleep. Some of the stories are classics that aren't from the Bible. For example, Les Miserables and Anne of Green Gables are featured.
We'd like this to be a complete guide to Christian bedtime sleep apps. Do you know of any that we've missed? Are there any app features that you've found especially useful? Please let us know below. 
For further reading:
4 types of exercise for awesome sleep
Where did all the waterbeds go?
Don't forget the decaffeinated coffee
The complete guide to finding and listening to sleep music
Updated: Apr. 11, 2023
Some banner ads on the DRS contain affiliate links. This means that if you click on an ad and make a purchase, the DRS receives a portion of the sale.